Burr yew and fumed oak nest of tables
A nest of tables created in an art deco style, with delicate curved legs. My clients had found it difficult to find a useful nest of tables in an art deco style, so asked me to make three tables that are both practical and pretty!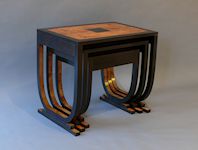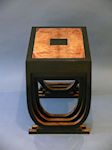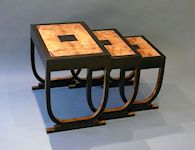 Two oak cupboards
Two matching cupboards made to go in a shallow alcove at the top of my clients' stairs. An interesting effect is given by the way I laid the veneer on the panel doors.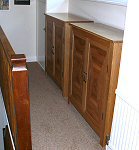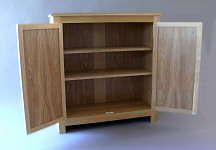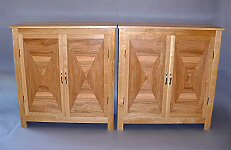 Chestnut hall chair
I wanted to make a chair that was tall enough to hang a coat on the back, and low enough to sit on while putting your shoes on. It is made of sweet chestnut, with fumed chestnut inlay.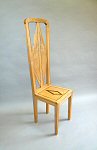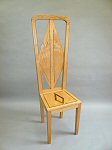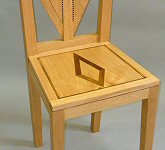 Small American black walnut table
This is an example of a table that I plan to make versions of from different woods and veneers. This one is made with American black walnut inset with a pepperwood veneered top and boxwood stringing around the edge.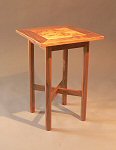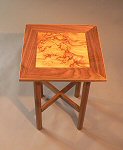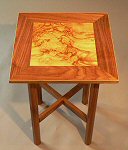 Davenport
This is a small 'Davenport' style desk. It has turned legs with three drawers to the right, and 3 mock drawers on the left. It is made of ripple sycamore and teak, with cedar of Lebanon drawer bases.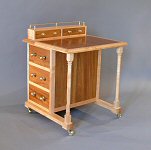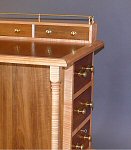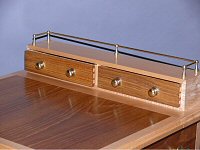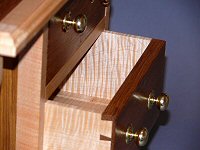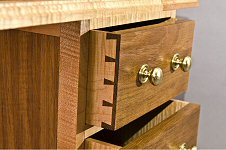 American black walnut side table
A delicate side table with a small but useful drawer. Made of American black walnut. The drawer has drawer sides of Ash, and a cedar of Lebanon base. The drawer and top are highlighted with box stringing.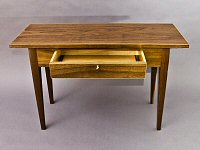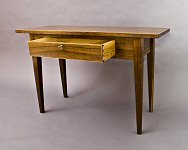 Bow fronted chest of drawers
Commissioned by a client with many original art deco pieces of furniture in his home. This chest of drawers was designed to fit in with the originals. Made from quartered pippy yew, and fumed oak, with ripple sycamore drawers.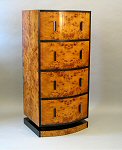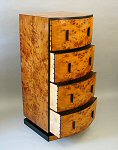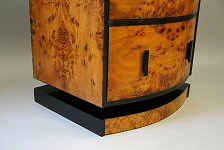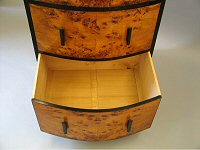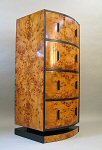 Maple and glass side tables
Specifically designed to be as light and unobtrusive as possible, these tables were made to fit into a small flat in St John's Wood. They are made of maple, with bevelled glass inserts.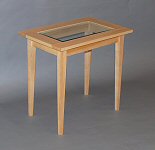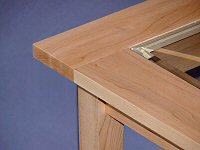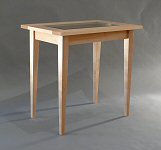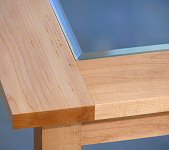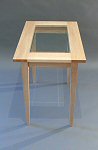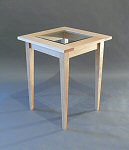 American black walnut tables
My client commissioned me to make a series of matching tables to replace her existing unmatched tables. This is the first of the series.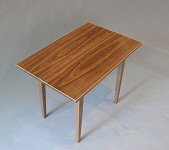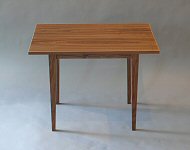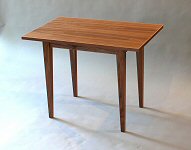 The second in the series is a glass-topped coffee table.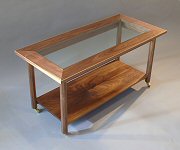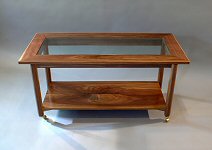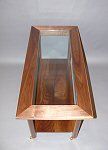 The third in the series is a nest of three smaller tables.